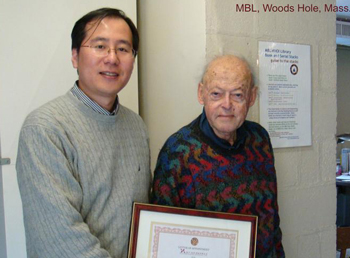 Working with pioneer scientist, Dr. Lionel Jaffe, who was a top specialist in the Vibrating Probe Technique and Non-invasive Micro-test Technology (NMT), YoungerUSA has been the leading biotech company in the world that has been producing, manufacturing, and selling NMT.
Tremendous efforts are always being made to make NMT more user friendly in terms of ease of use, understanding, and manipulation. In 2016 a new series was introduced, the NMT BioFunction Research Platform Series.
The 5th generation NMT System was released in the summer of 2013 with the NMT 100/200 Series.
YoungerUSA is engaged in applying NMT into all scientific fields including but not limited to personalized chemotherapy for cancer treatment, drug efficacy evaluation, and bio-monitoring of environmental hazards.
Background
From 2002-2005, YoungerUSA's key founder, Yue 'Jeff' Xu, was invited to provide NMT research services to the US NASA Specialized Center of Research and Training in Gravitational Biology (NSCORT).
YoungerUSA's Mission
Conducting research

Making NMT easier to use

Improving human life with the application of NMT
Partners of YoungerUSA
If you have any questions regarding their products, please create a ticket under the MLS (Microprobes) or ME (Microelectrodes) department.